| | |
| --- | --- |
| | |
---
Top-10 Family Games at Games Expo 2007
Kids Get KO'd, Sheared and Shunned for Fun
By Alison Marek
April 2007
Games Expo's debut 2007 show in Las Vegas highlighted strategic board games, fantasy games and just-plain-fun games for the family.

TD

monthly Magazine focused (literally) on that last category, training its video camera on some of the newest fare for kids and their folks.

These top-10 games help players learn everything from how to avoid ruthless boxing promoters in Boxing Express' The Original Boxing's Greatest Championship (

ToyShow

) to the most efficient way to abduct cows with Playroom Entertainment's Cosmic Cows.

Some of the games are so new, they won't be ready to launch until fourth quarter, but there's nothing like getting your foot in the door before the next store:
The Original Boxing's Greatest Championship by BOXING EXPRESS INC.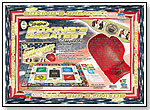 In this championship game, players have fun acting as a boxer, learning punches and defensive skills as they strive to win. Sometimes they make good business decisions, get rich, prosper and buy a mansion, yacht, expensive clothes and more. But sometimes they lose. Players have to watch out for greedy people that cheat them, taxes that can break them, a spouse that will take half of the earnings and, of course, knock outs. "Players learn about boxing skills, rules, finances, hardships and victories," President Rahn G. Porter of Boxing Express told TDmonthly. "[It] doesn't always add up to championships and endless riches." Launch date: December 2007. (

Watch Video) 3/27/2007 (Price: $35.00; Age: 8 and Up) [Add to my Inquiry Basket]

High School Drama! by SHIFTING SKIES GAMES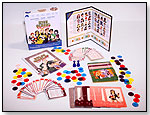 In this hilarious card game, each participant plays a high-school student trying to get his or her clique to take over the school. Players can hook up with other students, spread vicious rumors about their rivals and forge fake bonds. They can earn yearbook signatures by going to special events or receive student standouts like cutest couple and most artistic. Players start as freshmen, but the one with the most yearbook signatures at the end of graduation wins. High School Drama! "was designed to be played in mixed company because guys and girls equally love making fun of the high school experience," Game Designer Boyan Radakovich told TDmonthly, also noting that the satirical game is popular with tween girls. Launch date: May-June 2007. (

Watch Video) 3/27/2007 (Price: $22.95; Age: 13 and Up) [Add to my Inquiry Basket]

Global Odysee by ODYSEE GAMES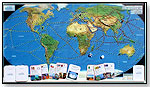 Global Odysee is a three-dimensional travel game designed to teach players about the world and its natural features, nations, people and cultures. It uses beautiful satellite imagery, and players can choose to travel along realistic 3-D routes between places of interest using different transportation modes. Planned regional versions of the game include American Odysee, Australian Odysee, European Odysee and Kiwi Odysee. Creator Len Wicks told TDmonthly that the following qualities set the game apart: its portrayed realism and 3-D landscape; the required strategy and decision-making; dice operation that allows for multiple and varied moves; and dual versions (home city and time limit) that cater to all needs and markets, including schools. Launch date: October 2007. 3/27/2007 (Price: $55.00; Age: 8 and Up) [Add to my Inquiry Basket]

Civil Lore! – The Game of American Culture by EVOLVING TOYS LLC


Players battle to win the board using their knowledge of America's cultural lore. They strategize and stake flags that others try to topple. Six fun cultural categories contain questions about folk stories, urban legends, roadside attractions, amazing oddities, unsolved mysteries and many other varieties of fascinating cultural lore.
— "Unlike pop culture trivia games, Civil Lore! lets you explore the deeper roots of American culture through high-quality questions about American cultural history and contemporary folklore," President Geoffrey Moran of Evolving Toys told TDmonthly. It "contains over 2,000 high-quality themed questions and comes with a deluxe accordion-fold game board." Launch date: February 1, 2007. (

Watch Video) 1/8/2007 (Price: $29.95; Age: 13 and Up) [Add to my Inquiry Basket]

Can-Do Roo by PATCH PRODUCTS INC.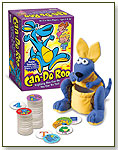 This soft kangaroo has a pouch full of activities to help teach numbers, letters, colors and shapes to children. The preschool game also includes activities, such as hopping like a kangaroo and imitating the sounds and actions of animals, so children have fun while learning. "The kangaroo holds all the Fun Cards in its pouch and serves as a soft and cuddly companion for preschoolers," Barbara Uebelacker, public relations manager for Patch Products, told TDmonthly. Launch date: May 2007. 1/22/2007 (Price: $14.99; Age: 4 and Up) [Add to my Inquiry Basket]

The World Cup Game by GAMES FOR THE WORLD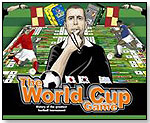 This game of luck and skill recreates the excitement of the World Cup soccer tournament. Can players guide a European team to victory in Uruguay in 1930? Or repeat Brazil's 2002 triumph in the Far East? Players control the destinies of national teams, taking them through group and knock-out stages. Through card play, each player scores goals, presses attacks and shores up defenses, but fouls, offsides and penalties can thwart a strategy. Matches in each round are resolved simultaneously, so a complete tournament can be played in one to three hours. "Unique tournament replay style" sets this game apart, Shaun Derrick, designer and proprietor of Games for the World told TDmonthly. Launch date: May 2007. (

Watch Video) 3/27/2007 (Price: $59.95; Age: 12 and Up) [Add to my Inquiry Basket]

Shear Panic by MAYFAIR GAMES INC.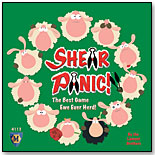 "The Best Game Ewe Ever Herd!" Ah, do ewe long for the life of a sheep? Bright summer days filled with games of tag and attempts to flock closer to Roger, the Heartthrob Ram? But Watch Out! The shearer wants to drag you away from all the fun and games! In Shear Panic, ewe maneuver your ewes to score points, playing tag, standing close to Roger, or trying to avoid the shearing scissors! Will your brave sheep score the most points, or will it be "Off with the wool" for ewe? (

Watch Video) 9/6/2006 (Price: $30.00) [Add to my Inquiry Basket]

Metamorfo by MCWIZ GAMES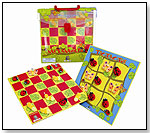 This educational game teaches youngsters to play checkers while also covering the concept of metamorphosis. It features a brightly colored magnetized board, magnetized plush caterpillars, butterflies and ladybugs, and a bonus tic-tac-toe board on the opposite side. It is trilingual in English, Spanish and French. "The unique transparent carrying case allows customers to see exactly what is inside the box," Valerie Therrien, director of marketing and communications for McWiz Games, told TDmonthly. (

Watch Video) 3/27/2007 (Price: $19.99; Age: 4 to 8) [Add to my Inquiry Basket]

Penguin by FANTASY FLIGHT INC.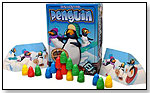 This delightfully simple and fiendishly addictive new game by world-renowned designer Reiner Knizia challenges players to find room for all their penguins on the ice. "Penguin blends the simple joy of stacking plastic penguins with subtle and devious strategy. It is unique in that it is a delightfully and attractively simple game with unsuspected depths of strategy and fun! Penguin is simple enough to teach in ten seconds, accessible enough for children, and engrossing enough for adults," Marketing Associate Dan Clark of Fantasy Flight told TDmonthly. Launch date: June 2007. (

Watch Video) 3/29/2007 (Price: $14.95; Age: 5 and Up) [Add to my Inquiry Basket]

Cosmic Cows by PLAYROOM ENTERTAINMENT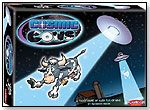 It's time for the Annual Extraterrestrial Cow-Pulling Contest, and aliens from all over the galaxy have come to watch the event. Players go head to head with cross-cosmos rivals to see who can abduct three Cosmic Cows first. The number combinations that are rolled determine the movement of the cows, and each player can choose which tractor beam to use in order to abduct them. With a good mix of strategic offensive and defensive maneuvers, players decide which combination of the unknowing bovines to pull toward their spaceship or away from the opponent's. The player that pulls three cows into his or her Win Zone first is the winner in this dicey game of alien tug-of-war. Game play is about 20 minutes. The game includes a gameboard, 10 dice, 10 Cow Pawns, plus instructions in English, French and Spanish. The game is designed for two players or teams. 3/28/2007 (Price: $15.00; Age: 8 and Up) [Add to my Inquiry Basket]